Diabetes and Cholesterol Screening in Laurel, MD and Annandale, VA
Manage Diabetes and Cholesterol at The Wellness NPs. For more information, contact us today or book an appointment online. We have convenient locations in

Laurel, MD

, and

Annandale, VA

.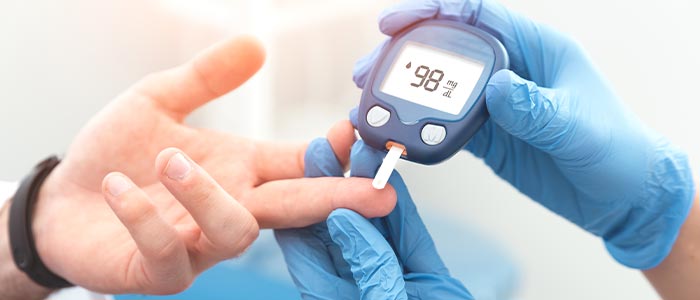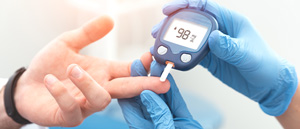 Table of Contents:
What is the relationship between diabetes and cholesterol?
How often should diabetics get cholesterol checked?
What screenings should diabetics have?
Do people with diabetes have higher cholesterol?
What is the relationship between diabetes and cholesterol?

It is possible to have high cholesterol levels if you have type 2 diabetes. Type 2 diabetes occurs when your body doesn't regulate or use glucose (sugar) correctly. Glucose levels in your blood can rise too high as a result.
 
Other health conditions, including high cholesterol, can be exacerbated by high glucose levels. However, even Diabetes type 2 patients with well-controlled blood sugar can still have cholesterol problems.
 
Your blood contains a waxy substance called cholesterol. Cholesterol is naturally produced by your body and on its own isn't bad. Besides making the outer layer of our cells, it makes vitamins and hormones as well. You can also find it in meat, cheese, and other animal products. There are, however, health risks associated with too much cholesterol in the blood.
 
You might have high triglycerides and low HDL levels even if you have type 2 diabetes and your blood sugar is under control. Additionally, you may have higher levels of LDL cholesterol. Cholesterol levels can be exacerbated by poor blood sugar control.
 
A condition called diabetic dyslipidemia occurs when you have diabetes and low levels of good cholesterol, but high levels of bad cholesterol and high triglycerides. Diabetic dyslipidemia affects up to 70% of people with type 2 diabetes.
 
People with diabetes have smaller and denser LDL particles than those without diabetes, which is one of the reasons diabetes is associated with heart disease. As a result, plaque can more easily form in your arteries due to its ability to invade blood vessel walls.
 
When type 1 diabetes is controlled, people with normal cholesterol levels usually have normal blood sugar levels. People who are overweight or obese are more likely to have high cholesterol.
How often should diabetics get cholesterol checked?

It is more likely that you will develop heart disease if you have diabetes. Therefore, you should have your cholesterol levels and triglycerides (a type of blood fat) checked annually. Knowing about cholesterol and the steps you can take to keep your levels in check is also helpful.
 
In order to measure your triglycerides, LDL, HDL, and total cholesterol, your doctor may suggest that you fast for 8 to 12 hours before the blood test. If you don't want to fast, you can have a test that shows your total cholesterol level.
 
Depending on the results of your non-fasting test, your doctor may recommend a lipid profile. Later on, you may need more tests to determine how well the treatment is working.
What screenings should diabetics have?

Diabetics may be required to undergo various different screenings.
 
A1C tests are different from blood tests you might perform yourself. Taking a blood test tells you what your blood glucose level is at the time. You can think of the A1C test as a summary of how your blood glucose has been over the course of a given period of time. High blood pressure can cause heart problems and strokes, so it is important to check your blood pressure regularly.
 
A dilated eye exam differs from an eye exam for glasses or contact lenses. An eye doctor uses eye drops to help see the blood vessels deep inside your eyes during a dilated eye exam. These blood vessels are checked by the doctor to see if they have been damaged. A damaged blood vessel inside your eye can seriously impair your vision if not found and treated. The risk of eye problems increases when experiencing high blood pressure and high glucose.
 
Diabetics may require additional screenings; the best practice is to check with and follow the recommendations of your healthcare provider to manage the condition.
Do people with diabetes have higher cholesterol?

It is important to carefully manage your blood sugar levels if you have diabetes. You are less likely to develop cardiovascular disease and other health problems if you keep these levels low. Diabetes increases your risk of developing high cholesterol. You should also monitor your cholesterol numbers as you monitor your blood sugar levels.
 
You're not alone if you have diabetes and high cholesterol. According to the American Heart Association's (AHA) Trusted Source, diabetes lowers HDL (good) cholesterol levels and increases triglycerides and LDL (bad) cholesterol levels. Heart disease and stroke are both associated with these factors.
 
Diabetes and cholesterol screening is available at the Wellness NPs. We serve patients from Laurel MD, Maryland City MD, South Laurel MD, Ammendale MD, Savage MD, Annandale VA, Lincolnia VA, Alexandria VA, Lake Barcroft VA, North Springfield VA and surrounding areas.